Have you ever wondered what henna eyebrows are? Well you have come to the right place! In our latest blog we are here to fill you in on one of the beauty industry's latest treatments – read on to find out more.
What are henna brows?
Henna is a type of dye that is made from the Lawsonia inermis plant, which is also known as the henna tree. It has been used for thousands of years for hair dye, body art, and makeup.
Fast forward to today, and henna brows are the latest beauty trend, following in the footsteps of semi-permanent make up techniques for the eyebrows such as microblading. When used on the skin, the tint stains it, which makes it perfect for use on the eyebrows.
A henna brow is a natural alternative to a more traditional brow tint treatment, and uses plant extracts rather than harsh chemicals, making it a popular alternative for customers with sensitive skin. Plus they are also vegan friendly, and instead of just tinting the eyebrow hairs themselves, it will also fill in your eyebrows by tinting your skin, giving an almost 3D effect.
Henna brow tint process
The henna brow process is very similar to having your brows tinted and waxed. Let us explain more so you know what to expect for henna brows before and after:
Before the treatment you will need a patch test at least 48 hours in advance.
First, your brows will be cleansed in order to remove any oils and dirt from the skin and to ensure that it is ready for the henna.
Next, your eyebrows will be measured and shaped, based on your preferences.
A white paste will then be applied around your eyebrows, which acts as a barrier and will ensure your new eyebrow shape has defined lines.
Now it's time for the henna to be applied in the most delicate part of the process. It will be pushed onto the skin, which is to ensure it evenly fills your brows in order to give a fuller effect, and will then be left to develop for between 10 – 20 minutes.
After the henna has developed, it will be wiped away and the last stage of the process involves your eyebrows being waxed, threaded, or tweezed so that they are left with a high definition result.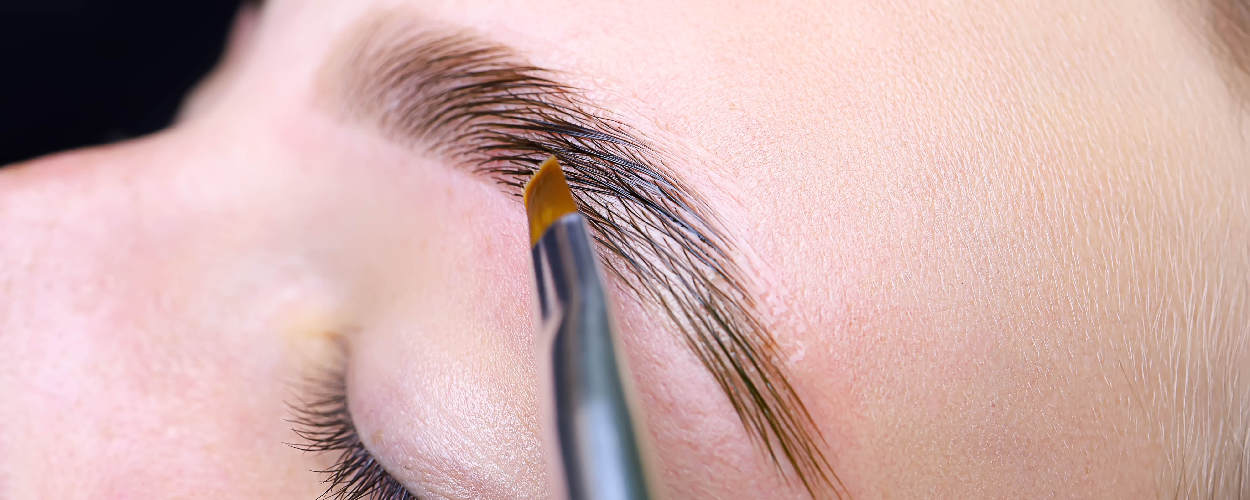 How long do henna brows last?
Are you worried about henna brows fading? Well you don't need to be! We are pleased to say that the henna will leave a tint on your skin for 2 – 10 days, and will tint your hairs for up to 6 weeks (which is almost twice as long as regular tint), providing a great temporary way to shape and fill your eyebrows. Plus, this also makes henna brows a great way to try out a particular shape if you are considering semi-permanent makeup such as microblading.
What else do I need to know?
By now you should have a good idea of what henna brows are and what the tint process involves, but there are a couple of points that we still need to mention.
If you have sparse or over-plucked brows, henna brows are a great way to add shape and fullness, and they can also encourage hair to grow back fuller too. Plus, henna can even tint grey hairs as well.
However, it is also important to know that the oilier your skin is, the less the henna brow skin stain will last, and if you have a skin condition such as eczema, psoriasis, or dermatitis then it will not last long at all. Also, it will be important for you to clean around your brows in order to help the skin stain last as long as possible, so it's best to try and leave them alone and not touch them. Finally, if you have very little eyebrow hair then unfortunately you will not have long-lasting results.
We hope that we have helped to answer your questions about henna brows, and that if you decide to go ahead with the treatment you are pleased with the results you have!